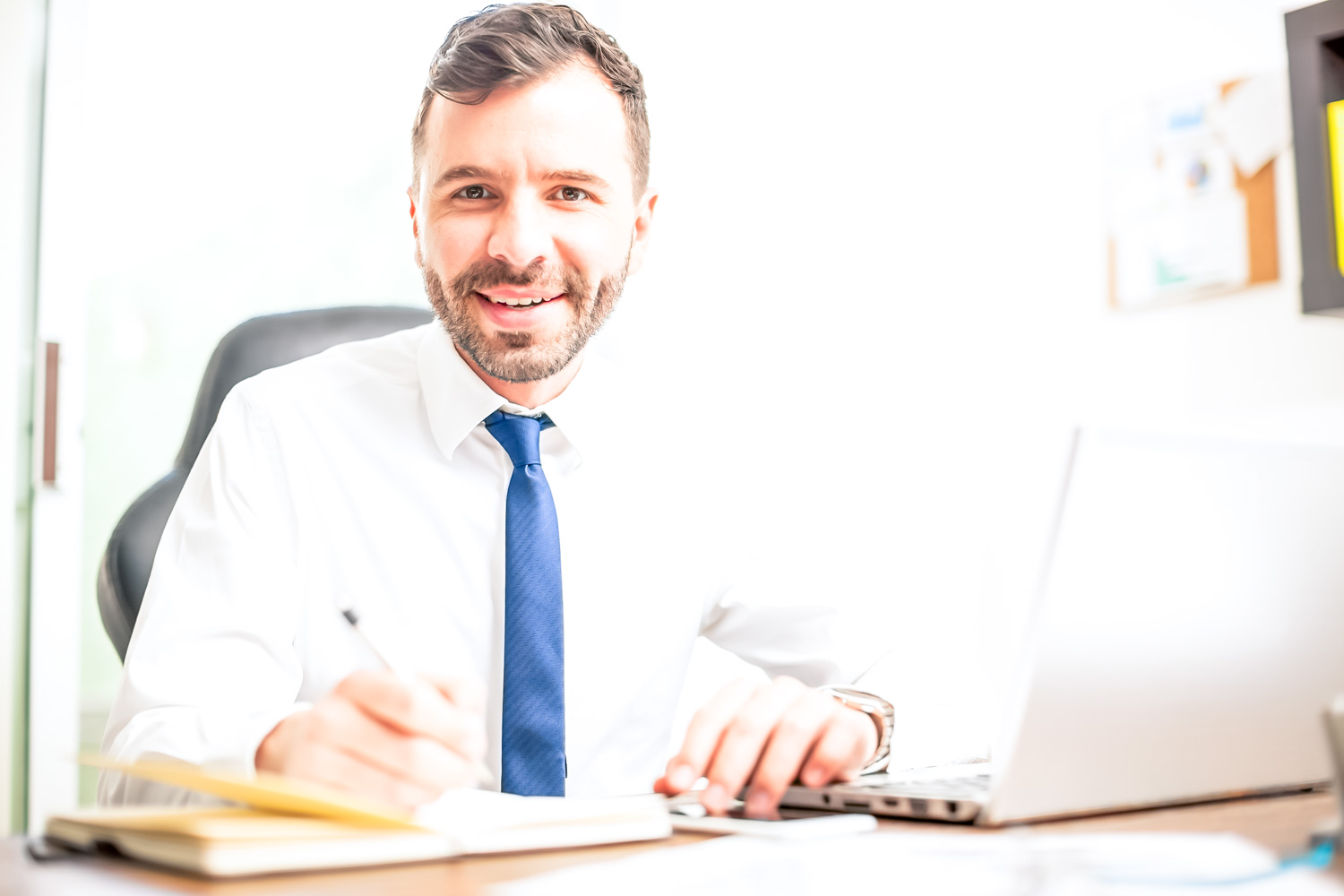 It may come as a surprise, but the used vehicle market is indeed on the rise again. Even amidst the ongoing uncertainties caused by the Covid-19 pandemic, we're seeing used vehicle prices increase, putting fleets in an advantageous position.
In today's blog, you'll learn why the market is on the rise, whether you should sell your fleet vehicles now, and how to deal with delayed order-to-delivery times for your new 2021 vehicles.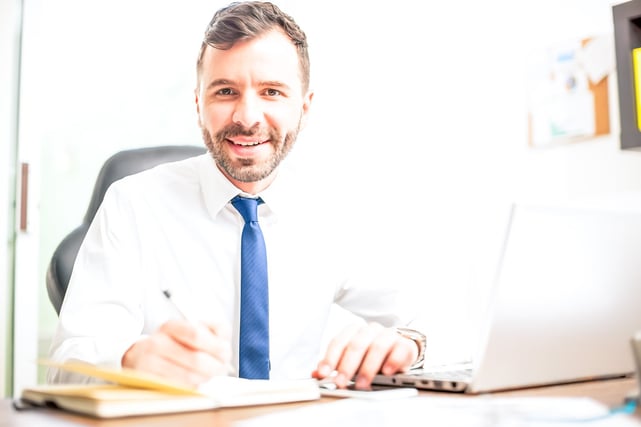 How did the pandemic affect the used car market?
Before the pandemic hit, we as an industry were already expecting the used vehicle market to decline in 2020. Based on historical data, this was supposed to be a record setting year in terms of off-lease supply, and this increased supply would, of course, bring prices down.
But once Covid-19 forced an economic shutdown at the end of March/early April, the used vehicle market completely tanked.
Many auctions shut down temporarily, and have been operating online sales only ever since. Automotive dealers shut down in some areas, which meant no one was able to buy vehicles for weeks. In some vehicle segments, we even saw double digit declines which—until that point—was virtually unheard of.
All indications pointed to a sharp decline in the market, followed by a slow, drawn-out recovery. But, unexpectedly, used vehicle values started rising again over the summer and haven't stopped since.

Why did the market rise faster than anticipated?
In short, because of a lack of supply. OEM shutdowns during the spring resulted in a halt in new vehicle production. Even now, production volumes aren't back to their normal levels.
Additionally, we saw an increase in lease deferral programs in an attempt to push off some of the vehicle inventory that should have been coming back in. In some provinces, repossessions were put on hold beginning in spring and summer.
So with this lack of supply, the question that fleets are now asking is:
Is now a good time to sell vehicles?
In a word, yes! The market has improved, and in some segments (like the truck market in particular) it's even at the level it was at pre-Covid.
To help illustrate this, our colleagues at ADESA have provided us with the graph below. Tom Kontos, Chief Economist at KAR Global shared, "Wholesale prices for three-year-old units are improving compared to pre-pandemic levels for most model classes, and pickup prices are up."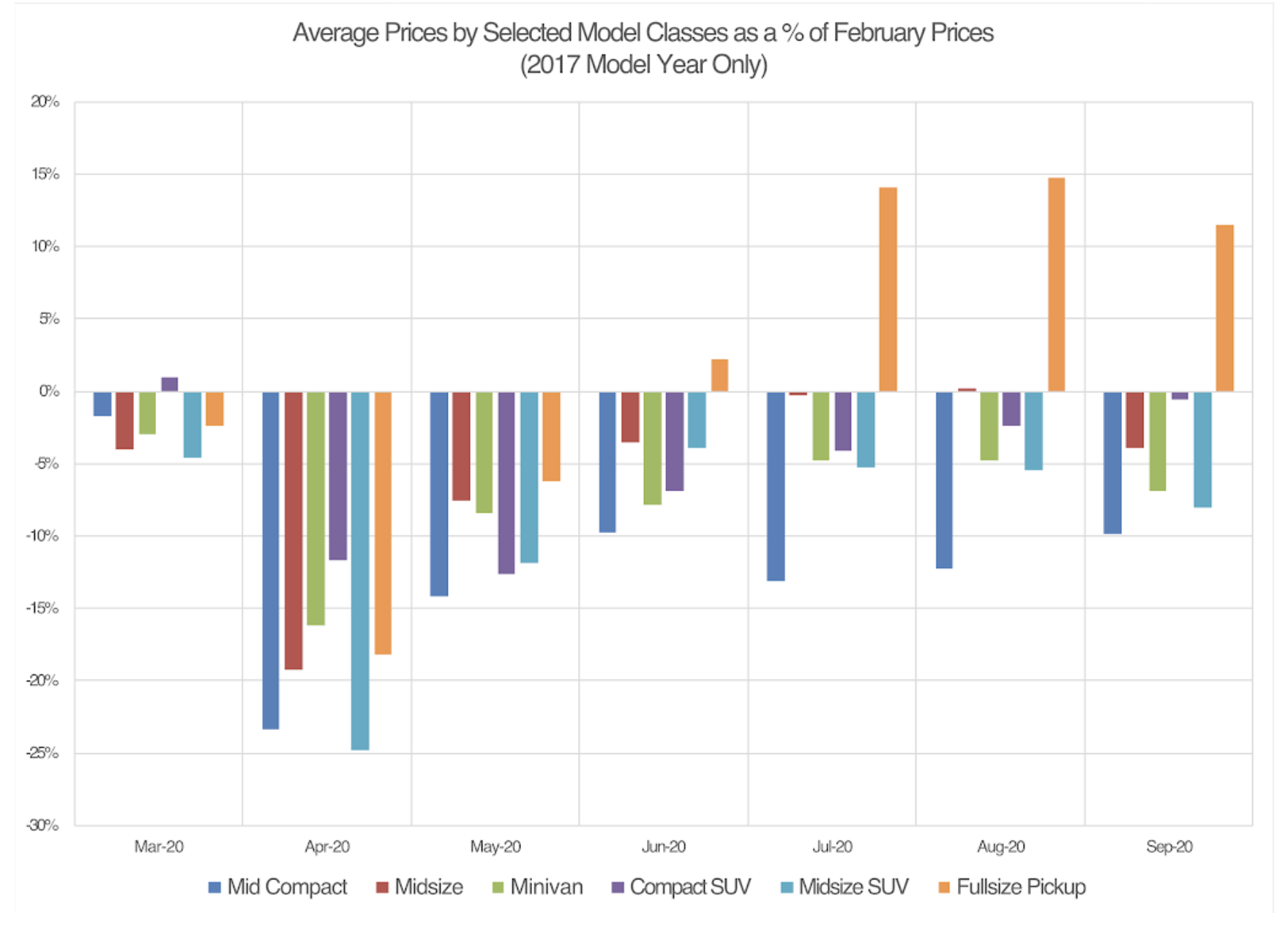 ADESA also shared their September wholesale used vehicle trends data with us below, and Mr. Kontos continued, "Through September, wholesales prices for all vehicles sold are up 7.3% year-over-year, with many model classes showing strong gains."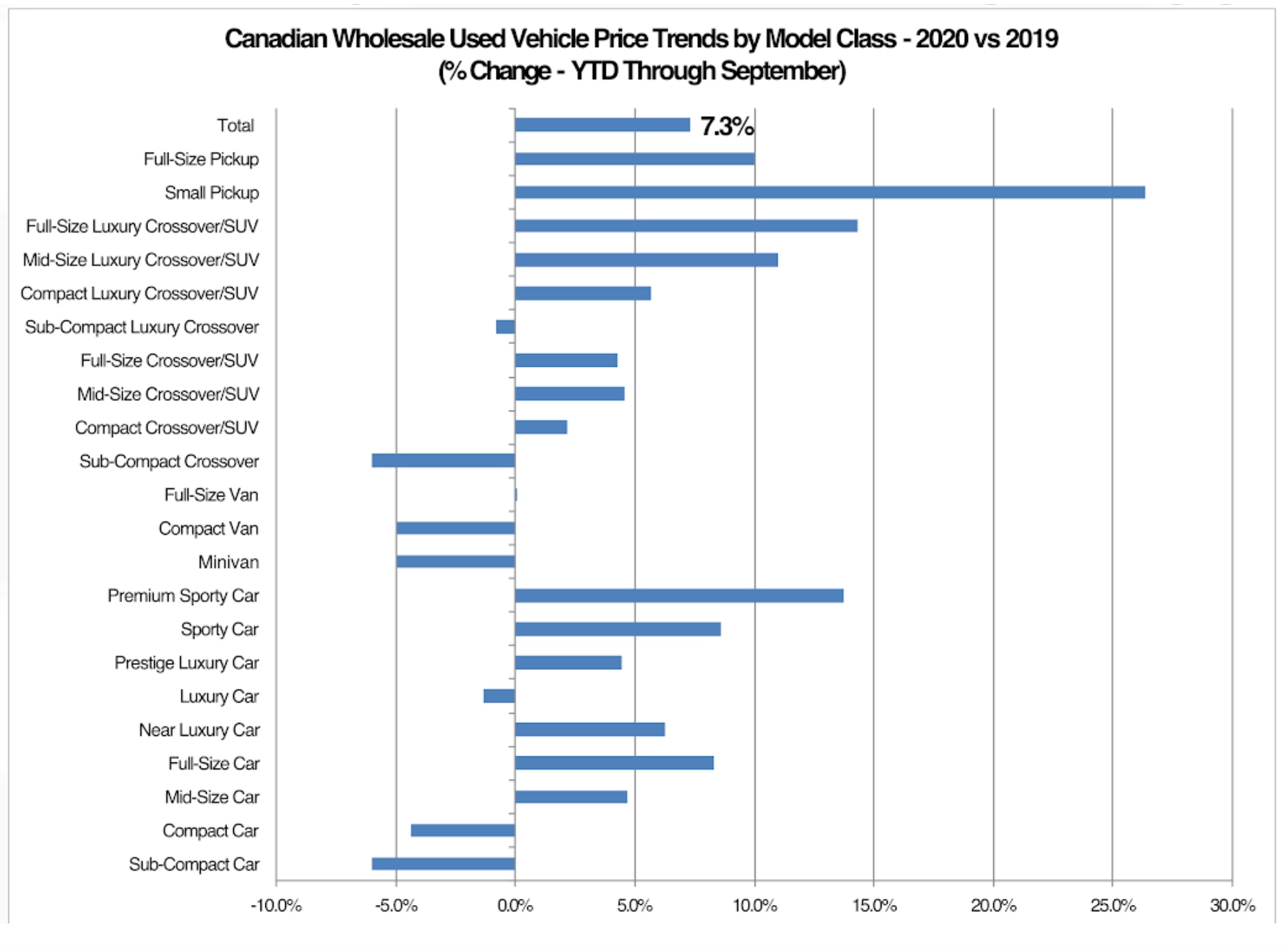 Read more from Tom Kontos in These Experts Share How to Better Cycle Your Fleet.
Additionally, conversion rates are up, which is due in part to the current US and Canadian dollar exchange rate. Since the Canadian dollar is still worth less than the US dollar, we continue to see US buyers engaging with used car sales on the Canadian market. The only difference is, they're doing so online and getting the vehicles shipped, rather than attending physical auctions.
The good news is, if the economy stays open—as it is now—we don't expect the market to drop again, though it may plateau. However, if we need to do a full shut down again, then the market might go back into decline.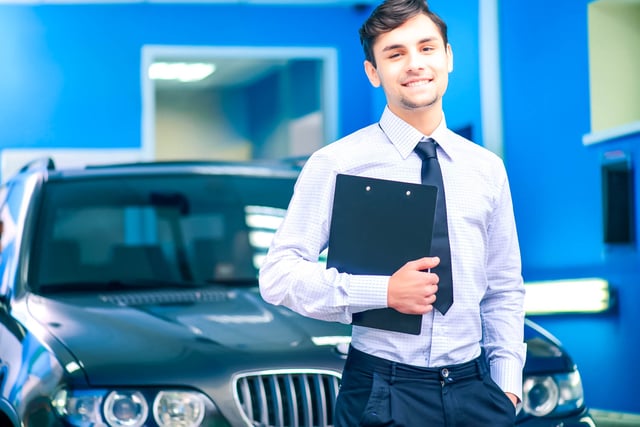 Next steps: Our advice for fleet managers
So how should you take advantage of this situation and ensure your fleet continues to run smoothly?
When it comes to acquiring new vehicles, it's essential to be more proactive this year because of the restricted vehicle supply. And also understand that you may not receive your preferred vehicles exactly when you need them. So plan ahead, and consider ways to keep your fleet operational if you do experience delays in your order-to-delivery times.
A great option is the short-term leasing solution we offer here at Foss National Leasing, called Flex. With Flex, you can get fit-for-purpose vehicles right when you need them, but you don't have to worry about long, rigid leasing contracts. Using Flex also allows you to take advantage of improved used car values, by selling your current vehicles and then acquiring new ones on a short-term leasing contract.
You can learn more about Flex here.
Finally, consider that in the future, since OEMs have been doing more deferrals, vehicle inventory might all come back in at once, resulting in a drop in prices. Since the prices are good now, it's best to take advantage of the situation while you can.
Final thoughts
It's encouraging to see used vehicle values increasing so soon after the pandemic hit. But the situation can change at any time, so it's best to be proactive with both acquiring and selling your fleet vehicles.
For help with fleet planning, or purchasing and remarketing vehicles, the team at Foss National is here to help.
Get to Know the Author
Claudio De Angelis is the Remarketing Manager for Foss National Leasing with 20+ years of industry experience.
He is responsible for remarketing vehicles across Canada and is also the co-lead of the International Automotive Remarketers Alliance's (IARA) Education and Certification committee. He is a IARA certified Automotive Remarketer and is the recipient of the IARA's Remarketer of the Year and Auto Remarketing Canada's under 40 awards.
Meet our team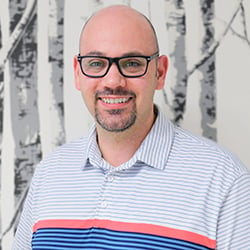 Get the latest fleet management news