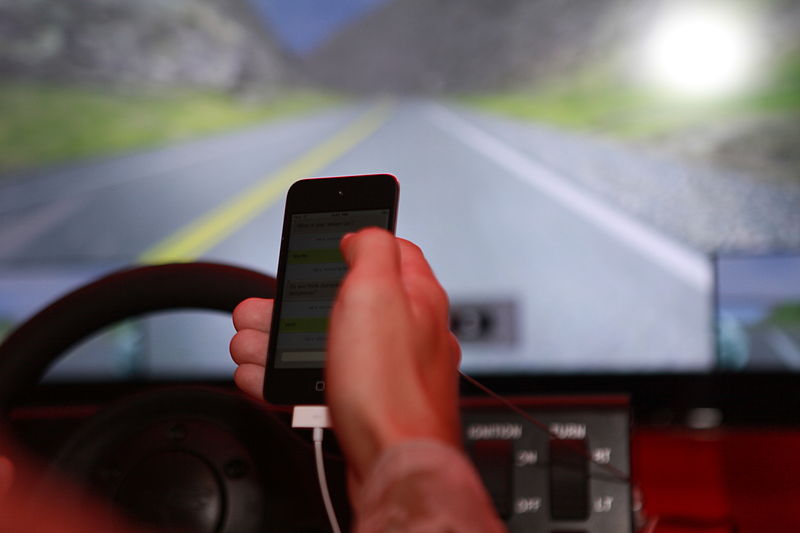 Distracted driving is one of the biggest risks to your fleet.
If one of your drivers is in a crash due to being distracted, it will cost you big time. And what is a major source of distraction these days? Texting.
In this blog, we'll look at the real costs of texting while driving, and what you can do to prevent it.
TEXTING WHILE DRIVING FACTS: HOW DANGEROUS IS IT?
It probably isn't surprising to learn that texting while driving is more dangerous than eating, adjusting music, or using a navigation system. Some experts argue that it's equally as dangerous as drunk driving.
Did you know: drivers are 23 times more likely to be involved in a collision if they text while driving?
Why is this?
Because using a phone while driving causes drivers to take their eyes and attention off the road, and their hands off the steering wheel.
The result is:
Driver reaction times become longer (notably braking reaction time, but also reaction to traffic signals).
Drivers are less able to keep in the correct lane.
Drivers may follow other cars too closely.
There is an overall reduction in the driver's road awareness.
If drivers are caught texting and driving, or otherwise driving distracted in any way, they'll be charged. They'll need to pay a fine and may even have their license suspended, and that affects your business. If the people you hire can't deliver your products or services, business owners end up paying the price of distracted driving.
What Are the Distracted Driving Fines in Each Province?
Fines vary depending on the province, with some increasing the penalty for each distracted driving-related offence. Ontario has just announced that it will increase the first offence fine to $1000 in the coming months, and drivers will receive a three-day license suspension.
Here's a breakdown of first offense charges by province: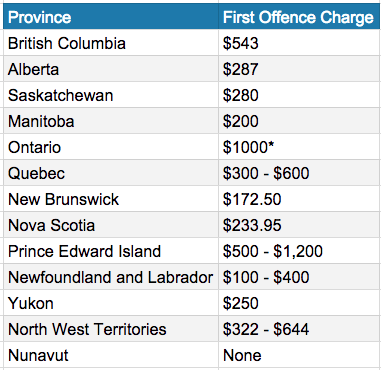 *effective in the coming months
How Much Do Vehicle Crashes Cost?
Vehicle crashes cost businesses huge amounts of money. They also result in lost resources and ruined reputations.
Collision costs are often divided into 'direct' and 'indirect' categories.
Direct costs refer to the tangible costs linked directly to the crash:
property damage
emergency response
medical fees
legal fees
Indirect costs (also called human capital costs) refer to future net production lost due to the crash. These costs measure the "value" of a collision victim: through long-term income loss or reduced earnings, as well as pain and suffering.
According to the Capital Region Intersection Safety Partnership Collision Cost Study, on average, direct costs for a fatal collision total $181,300—and indirect costs total $1,669,100. For injury collisions, direct and indirect costs both average about $40,000.
Did you know: the owner or manager of the company vehicle will be named in the lawsuit 100% of the time.
And these days, it isn't hard for a plaintiff to prove their case in court. Thanks to cell phone records and GPS data, it's easy to see if a driver was texting, talking on the phone, or otherwise driving badly before the accident.
How Can You Reduce the Risks of Distracted Driving?
As you can see, when it comes to texting and driving, the risk to your company is huge. So here are some actions you can take now to reduce it:
Educate yourself and your employees on the consequences of distracted driving, including the dangers of texting while driving.
Establish a company-wide policy on the use of cell phones when driving. Several companies have a zero tolerance policy in place cell phone use while driving a vehicle. If someone is caught driving and using the device they are terminated immediately.
Roll out that plan through an education based system and have every employee sign-on that they understand the policy and will follow it.
Implement other technologies to communicate with drivers. Telematics is one that helps with managing fleet availability.
Provide ongoing safety training to your drivers. Knowledge is king. They'll be better drivers who are more efficient, focused, more profitable, and ultimately safer.
Conclusion
A vehicle accident that is caused by a texting, or otherwise distracted driver can cost your company dearly. The best way to avoid the stress, lost money, and a damaged reputation is through proper education and driver training.
A small and ongoing investment in creating distracted driving policies and educating drivers will go a long way to saving your company money in the long run.
Next Step:
Download our guide—5 Critical Steps to Prevent Distracted Driving—to learn the 5 actions every fleet manager should take to prevent distracted driving.
Get to Know the Author
Dave is a highly motivated, innovative and results-oriented sales executive. He is passionate about coaching and sustaining high-performance teams that enhance the customer experience and achieve business objectives.
He knows the fleet business from the ground up with over two decades of fleet management experience. He has held several senior management roles overseeing new business development, customer satisfaction, account management and operations.
Dave maintains a keen aptitude for continually assessing and adapting to the needs of clients.
Meet our team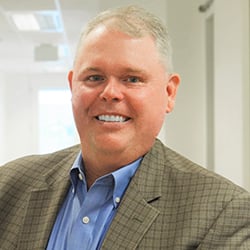 Get the latest fleet management news