Whether you operate a small or large fleet, you want to be able to manage it effectively as you grow. It's important to periodically evaluate your business to see if the time and resources you spend to acquire, manage and resell your fleet can be used more efficiently.
That way, you can focus your efforts on doing what you do best.
That's where working with a fleet management company will pay dividends to increase your bottom line. Top fleet management companies have systems in place to help businesses be more profitable. Here are some of the essential advantages:
TOP 5 REASONS TO WORK WITH A FLEET MANAGEMENT COMPANY
1. You'll reduce your company's vehicle acquisition costs.
Vehicle acquisition is about selecting the right vehicle for your particular needs in a cost-effective way - while also providing the highest return.
It's not enough to just find the lowest purchase price - considering the end-of-life value is essential when purchasing a vehicle. This has an enormous influence on the vehicle's total cost of ownership, and is an important consideration when calculating your total fleet costs.
(Related post: A Fleet Procurement Strategy to Boost Your Bottom Line)
We often hear fleet managers describing their experiences with dealers as inflexible and rigorous. Fleet management companies have a lot of experience in this area, and can help with the purchasing process.
Many fleet management companies also have special negotiated pricing arrangements with certain manufacturers. They can get you discounts that go above and beyond what's available to the general buying public. They also might be able to inform you of vehicle production issues not yet made public.
Whether you factory order or acquire your fleet from a dealer, a fleet management company will save you money - whether your fleet is 10 vehicles or 1,000.
2. You can know the vehicles you get are exactly right for their intended purpose.
This is where the analogy of "using the right tool for the job" is spot on. Purpose-built and specific upfitting helps your drivers do their jobs better. Remember: vehicle upfitting isn't simply an added cost, it's an opportunity to improve driver efficiency and satisfaction.
But just how much custom upfitting should your vehicles get?
That depends on your industry, the needs of your drivers, and your company budget. A fleet management company can handle the upfitting for you, and even facilitate communication between senior management and drivers. The result is a smoother upfitting process that everyone is happy with.
How does this translate to cost savings? Smart upfitting will help you:
reduce driver turnover
help drivers be more efficient (meaning they can make more service calls)
reduce the likelihood of having to re-do the upfit because it doesn't meet driver requirements
As your business grows and changes, the purpose of your vehicles might evolve as well. A fleet management company can make sure your fleet is keeping pace with your business and job duties by making upfitting improvements when necessary.
It's also important to make upfitting decisions by looking at the end purpose of the vehicle. Looking ahead to anticipate how valuable your vehicle's particular upfitting will be when reselling should influence how you upfit the vehicle at point of purchase.
(Related post: 4 Upfitting Strategies for a Better Equipped Fleet)
3. You'll be able to manage your fuel and maintenance costs more easily and effectively.
You might not be able to control the actual cost of the fuel, but there are other ways you can monitor and manage your costs.
With a fleet management company, you can use a single fleet card that's accepted at nearly all fuel and maintenance facilities. This makes drivers more efficient, because they don't have to waste time driving around looking for a particular gas station brand. It also reduces your administrative load by giving you one annotated invoice. You won't need to collect, record, and reconcile fuel and maintenance receipts anymore.
Your fleet card also helps with route planning, so you can save on fuel costs. Drivers can then "fill up" in the most efficient way: along the route to the next call. In addition, a fleet management company will help you implement measures to eliminate fuel fraud among your drivers.
(Related post: How Fleet Fuel Tracking Can Increase Financial Savings)
4. Your fleet vehicles will sell at auctions for consistently more money than if you were to do it yourself.
Don't start thinking about vehicle remarketing when you're getting ready to retire your fleet vehicles. You need to be thinking about it during the purchase, ownership, and selling stages. If you want to keep your fleet's value up against the competition, it's essential that you invest, maintain, and recondition throughout your ownership. This kind of fleet management requires thought, attention, and money up-front, but will reward you greatly in the long run.
When it comes time to resell your fleet vehicles, having an expert with industry connections and years of experience will earn a higher resale price at auction, and a faster turnaround. This directly lowers your total fleet costs, and saves you money which you can use to use to upgrade your fleet by investing in new vehicles.
(Related post: 3 Steps to Selling Fleet Vehicles for Maximum Returns)
5. You'll get detailed fleet metrics so you can make operational improvements to your existing fleet.
How can you make key decisions about your business?
Detailed fleet metrics can help with effective fleet management. With telematics, a dispatcher can know exactly where the nearest driver is. This leads to shorter trips that are more efficient, and more visits per day, translating to happier clients and increased revenue.
Many fleet management companies have online portals, where you can track your vehicles' movement at every point.
You can also use the detailed fleet metrics from fuel cards and telematics products to manage:
Tolls:

Track toll road payments—for every vehicle in your fleet, on every toll road or bridge in Canada. This will eliminate the administrative burden of reconciling the many bills and will help identify duplicate payments, fines, and even plate denials.
(Related post: How Fleets Can Avoid These 3 Incorrect 407 ETR Charges)
Driver Behaviour:

Hold drivers accountable and help track driver behaviour. Fleet telematics have increased fuel cost savings, driver and vehicle productivity, as well as fleet safety for many companies.
Insurance:

Get discounts on your insurance from fleet insurance providers in Canada. Companies using a fleet telematics solution receive a sizeable discount for enabling their employees to drive safer as a result of implementing fleet telematics.
Cross-Border:

Know if and when your vehicles are moving across borders. Having this information will help the fleet manager handle any modifications or insurance that may be required for local laws.
Taxable benefit calculation:

Collect and maintain detailed monthly mileage reports. Tracking vehicles and assigning them for the taxation year will calculate your employees' tax benefits and eliminate this time-consuming task for your administrative staff.
Misuse and Fraud:

Track fleet usage while tracking and having built-in spending controls for fuel. It's reported that on average 15% of a company's fleet fuel budget is wasted by misuse and fraud. Having these fleet metrics can nearly eliminate inappropriate or fraudulent fuel purchases.
Maintenance and fuel costs:

Analyze and report maintenance and fuel spending patterns. A fleet card maintenance program ensures both the driver and the company know when the vehicle is in need of maintenance or repair. Repair authorizations are simplified, with pre-approved vendors and pre-set limits, so your drivers are back on the road faster, and your administrative overhead is cut to a fraction.
Takeaways
Use the right tool for the job and you'll get the best results, whether they're measured in time, money, effort, quality, or the experience you deliver your clients.
There needs to be a balance between focusing on the costs of your company's vehicles and the potential revenue each vehicle brings to your business.
A fleet management company can help you achieve that balance, streamline your processes, and save more money.
Get to Know the Author
Hussain Dhanani has worked in the fleet management industry for 11 years (pretty much as soon as he was out of diapers). He started working in the industry as a Client Service Representative, and enjoys his current role of Account Manager. Hussain has a passion for helping people and looks forward to continuing to grow within the company. He aspires to one day be president of the company. His clients appreciate his hands on approach and love working with him. Outside of the office, Hussain likes to stay active by playing (a lot of) hockey.
Meet our team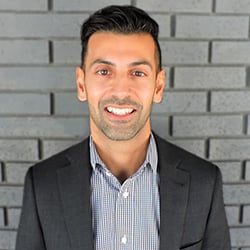 Get the latest fleet management news