Hearing a lot about electric vehicles lately? We're willing to bet you are. And it's no wonder, because the EV revolution is happening faster than anyone predicted. As a result, fleets now have the unique opportunity to position themselves as technology and sustainability leaders in their industry.

Although electric vehicles will not work for all fleets, for many, they do have real advantages over gas and diesel-powered vehicles. These include lower fuel and maintenance costs, which contribute to a lower total cost of ownership. In addition, by adopting EV's in your fleet, you'll positively impact your local air quality and be part of the solution to climate change.
Here are a few misconceptions about fleet electrification that we'd like to address.
5 MISCONCEPTIONS ABOUT OPERATING FLEET ELECTRIC VEHICLES
Myth #1: EV's are too expensive for my fleet
When EV's were initially introduced to commercial applications, they came with a pretty big price tag. But electric vehicle costs have been falling each year with vehicles now available starting at $29,000 in Canada.
Furthermore, the following electric vehicle incentives are available in two provinces:
British Columbia:
Up to $12,000 for the purchase or lease of a new EV by combining government incentives and those from BC's Scrap It program.
Québec:
(Related post: Key Insights from Canada's Leading Expert in EV Adoption)
There are also other cost-savings factors that help offset the initial cost of an EV. For example, insurance costs for EV's are lower, and many insurers in Canada offer green vehicle discounts. Furthermore, it's an undeniable fact that the price of gas is rising, and will continue to do so. Did you know the cost of electricity to charge the vehicles is now more affordable than the cost of gas?
EV's also provide savings in maintenance, fuel costs, and repairs, which leads to a lower total cost of ownership for fleet managers. For example:
100% EV's will not require oil changes.
Regenerative braking of EV's results in less brake wear and tear.
EV's have fewer moving parts that require maintenance and repairs.
Myth #2: EV's don't have enough range to cover my routes
Many people out there have "range anxiety" when it comes to EV's and fleet managers are no exception. You may worry that the vehicle will run out of power and your drivers will be stranded. Fortunately, these fears are unfounded in a large majority of the cases. A study by researchers at MIT showed that 87% of vehicles on the road could be replaced by an EV with no need to charge throughout the day. In other words, range anxiety was simply unwarranted in 87% of cases.
In Canada, the available EV's have a range of up to 383 kilometers. This means, depending on your industry and routes, you can swap your conventional vehicles for electric fleet vehicles without encountering any range issues.
Myth #3: More public charging is needed to bring e-vehicles into my fleet
Although public charging is sparse in Canada for now, great strides are being made in building out more infrastructure. A significant advancement is that an impressive 34 EV charging stations will be installed along the Trans Canada highway in Manitoba and Ontario. This move will allow fleet drivers to travel between cities without fear of running out of power.
And for those areas in which public charging is still sparse, fleets can still operate and charge EV's. How?
Fleets can install their own private charging infrastructure on site, so plug-in electric vehicles can be charged overnight or when otherwise not in use. And if your fleet operates in Québec, you can get 50% off the cost of buying and installing a private charging station -- up to a maximum of $600.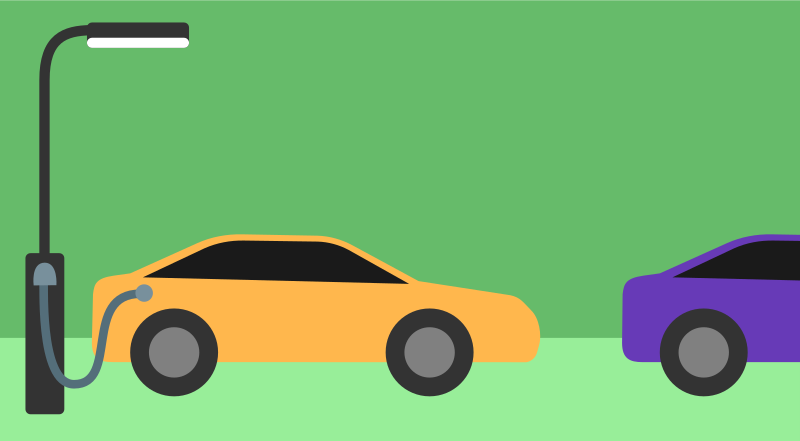 Myth #4: Electric vehicles don't work in cold weather
Fleet drivers that work in our Canadian winters don't want to be left out in the cold, so to speak. Therefore, we know EV winter performance is a real concern. But it's a fact that all vehicles, including gas and diesel-powered vehicles, perform less efficiently during cold weather.
In fact, a 100% electric vehicle will actually start more easily than a gas-powered car when cold. This is because EV's have fewer moving parts and do not rely on oil that is prone to becoming thick and molasses-like in cold weather. However, it is true that an EV's range is going to be reduced when cold, so you'll need to consider this when evaluating your routes.
(Related post: A Fleet Manager's Guide to Electric Vehicle Types)
Myth #5: EV's aren't safe enough for my drivers
We know safety is always a top concern among fleet managers. So here's some good news: EV's have all the standard safety features and must pass the same strict safety standards as conventional vehicles. In fact, it can be argued that gasoline-powered vehicles are more dangerous because their fuel is explosive.
Though there may have been some issues with EV batteries early on, those issues have led to substantial strides in safety. For example, batteries now have automatic cut off in the event of a collision.
Final Thoughts
Electric vehicles have evolved significantly since they were first introduced. Many commonly held misconceptions come from a time before the technology became as sophisticated as it is now. And the good news is, purchasing and owning an EV is now more affordable than ever. Fleets should take advantage of government incentives that will lead to thousands of dollars in savings.
Furthermore, by adopting EV's, you'll save money on insurance, fuel costs, maintenance, and repairs. In short, fleet electric vehicles are safe and affordable investments that are capable of meeting the range and performance requirements of many fleets.
Next Step:
Download our white paper - E-Fleets Are Coming: How Can You Plan for Change? It discusses the key benefits and challenges associated with EVs in-depth, and provides expert advice on key considerations to make before going electric.
Article by Basil Marcus