It's hard to have a conversation about fleet management these days without the topic of electric vehicles coming up. EV's are becoming more widely adopted by both individuals and businesses across a variety of industries.
In 2016 alone, electric vehicles sales jumped by 37%, and the growth in 2017 will be even higher. Many manufacturers are making great strides to include e-vehicles as part of their offering. Some are even going exclusively electric.
Just think, in the very near future a large percentage of the cars on the road will be zero-emission.
So the question today is: Should you add electric vehicles to your fleet? How do you know if they are right for your business? Only by taking a good look at the specifics of your circumstance, including geographical location, routes, and budget, will you be able to arrive at a clear answer.
To help put clarity to this situation, we sat down Ford Canada's Shannon White, Product Marketing Manager for Cars. She provided us with expert insight into what fleet managers should know about adding electric vehicles to their fleets, as well as Ford's leadership in leading the transition to EV's.
INTERVIEW WITH FORD CANADA'S SHANNON WHITE ON THE TRANSITION TO ELECTRIC VEHICLES
Q: With Ford's Focus BEV, the Tesla 3, the Chevy Volt, the VW e-Golf all arriving on the market, the change to e-vehicles is coming faster than many people expected. How can fleet managers plan for it?
A: Each fleet manager will need to be aware of a number of factors when considering electrified vehicles in lieu of the more traditional Internal Combustion Engine vehicles (ICE).
These considerations include:
Available charging station infrastructure
Is there currently existing infrastructure in the areas your vehicles operate?
Where will more stations be installed in near term?
Do you need to install charging station(s) at your office location(s) and/or at the employee's residence?
Should you install fast-charging stations to minimize charging time?
Vehicle operating range requirements and whether the range of an EV can meet them
If an electric vehicle's projected range would expire before a charge is available, consider a plug-in hybrid instead of a fully electric vehicle.
Plug-in hybrids run on electric power and move to hybrid once the electric power is depleted.
(Related post: A Fleet Manager's Guide to Electric Vehicle Types)
Available provincial rebates
All provincial rebates are available for leases that are a minimum of 36 months in Ontario and BC and 48 months in Quebec.
Length of the vehicle's lease term
Electric vehicles have a longer warranty (8 years/160,000) on hybrid electric components.
Cost for electricity versus gasoline fuelling costs
Q: How can fleet managers compare EV costs to gas or diesel vehicles?
A: I recommend consulting Natural Resources Canada Fuel Consumption Ratings, which lists the estimated annual fuel and energy costs for all diesel, gas, and electric vehicles available in Canada. This can give you a starting point from which to compare costs. Electricity is generally one third the cost of gasoline. However, costs for electricity will vary by location and time of charging.
Some other costs to consider are:
one-time infrastructure installation costs (if you decide to install an on-site charging station).
Vehicle purchase costs (including grants).
operating costs including vehicle service and battery lifespan.
Q: EV passenger vehicles that are now hitting the market have ranges of approximately 400km. What does this mean for working vehicles?
A: Commercial fleets will be able to enjoy longer intervals between charging, allowing them greater flexibility in their operations. And electric vehicle ranges will only continue to grow from here. For instance, Ford recently announced a Battery Electric Compact SUV with a 480-kilometre range. Today there are choices for Plug-in hybrids with a range of over 900 KM.
Q: Everyone talks about range as a key factor, but what about charging?
A: The infrastructure for DC fast charging stations is growing. These stations are equipped with an electric output ranging from 50 - 120 kW and cut down EV charging time significantly. The Ford Focus Electric now achieves 80% of its 185 km range in approximately 30 minutes.
(Related post: Electric Vehicles for Fleets: 5 Common Myths Debunked)
Q: Can you tell us more about Ford's role in the transition to electric vehicles?
A: The automotive industry as a whole is already seeing a great deal of activity with the introduction of more and more electric vehicles. At Ford, electrification is a critical part of our expansion to becoming an auto and mobility company.
As electric vehicles become more cost-effective and enjoyable to drive, we have a golden opportunity to make people's lives better by changing the way the world moves. With almost 20 years of experience in developing electric vehicles that run on either a battery or a combination of battery and gas, as well as the infrastructure needed to support them, we've already sold more than half a million electric vehicles globally.
We remain focused on delivering affordable electric vehicles at scale including:
full hybrids that never need plugging in.
plug-in hybrids that can run on electricity and then in hybrid mode.
zero-emission fully electric vehicles.
And we're only just getting started. Ford is investing $4.5 billion in electrified solutions across our vehicle lineup, including 13 new electric vehicles in the next five years.
By electrifying our most popular, high-volume commercial vehicles, trucks, SUVs and performance vehicles – and introducing a dedicated full-battery electric vehicle – we are building on Ford's areas of strength. Included in these launches are F 150 Hybrid, two police hybrid vehicles, Transit Custom plug-in hybrid and more!
Summing Up
Change is happening fast. Electric vehicles are on the road and they've been proven as reliable, efficient, and powerful replacements to traditional gas and diesel-powered vehicles.
Automotive companies like Ford are at the forefront of this change and are helping lead the transition to zero-emission transportation. Fleet managers now need to ask themselves if EV's are a good fit for their fleets. Each fleet is unique, so the answer will vary.
Next Step:
Download our white paper - E-Fleets Are Coming: How Can You Plan for Change? It discusses the key benefits and challenges associated with EVs in-depth, and provides expert advice on key considerations to make before going electric.
Get to Know the Author
Basil is a seasoned, results-oriented executive possessing North American and European experience. He has held senior management roles for over 10 years, gaining experience in sales, marketing, business development and fleet operations.
As Managing Director at Foss, he is passionate about changing the way we look at fleet management, mobility, green initiatives, and automotive trends. He takes great pleasure in working closely with the Foss team and helps those around him to grow and evolve within the company.
Basil maintains the same enthusiasm and energy in his personal life. He spends as much time as possible with his wife and two young boys. Any other spare time he finds he is out on his bike, golfing, traveling, and exploring.
Meet our team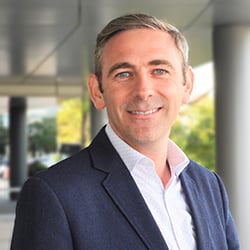 Get the latest fleet management news