The number of employees at Foss has been constantly growing in recent years. Remarkably, Foss stands out as the only fleet management company that has significantly increased its workforce during Covid. Foss typically competes against larger companies for talent and often succeeds.
To better understand what makes Foss an attractive place to work, we interviewed four employees with different positions and years of experience at the company.
Why Fleet Management?
At Foss, we have a diverse group of people with various backgrounds and interests, all contributing to the success of our clients.
For example, Steve Aguzzi joined the company recently as an Commercial Fleet Executive. He is a car enthusiast with experience in vehicle maintenance. Grant Chitty,on the other hand, has been an Account Manager at Foss for just over 10 of his 30 years in fleet management. Prior to his transition to the fleet he worked as a Mechanic, Service Advisor and Service Manager. Shayne Doody is the next new Commercial Fleet Executive at Foss. He started his career in sales at a luxury car dealership but aimed to provide more value by streamlining processes and helping companies make smarter decisions.
But there are also those who stumbled into fleet management by accident, like our Director of Card Operations, Lori Pinter. She recalls, "My brother was working part-time at Foss, and as it happened, my summer job didn't work out. I reached out to him to inquire if Foss was hiring, and fortunately, they were. They were so impressed with my brother that I got my summer job on the spot." Lori stayed with Foss for the next 27 years and is in love with fleet management ever since.
"Fleet management is not about cars and trucks, it's about people" emphasizes Grant Chitty. For those who are passionate about what they do, fleet management is more than just a job. Steve echoes this sentiment, saying, "My job is about building relationships with clients and treating them like family. This is what fuels my passion for fleet management."
Fleet management is a multi-faceted and dynamic field that offers numerous opportunities to professionals from all backgrounds. From maintenance and leasing to telematics and EVs, this industry is constantly evolving and requires top talent to grow.
Why work at Foss?
It never gets boring
At Foss, we pride ourselves on providing a bustling and dynamic environment where learning is a never-ending process.
"Nothing is repetitive. There are always problems to solve and efficiencies to be found. On-boarding new customers always bring fresh perspectives and unique challenges, giving me the chance to help them address their business obstacles" says Lori.
Our employees are encouraged to pursue growth opportunities that help them stay up to date with the latest news and global developments. This includes expanding their network, engaging in conversations with people from different industries, and even learning from competitors.
Our employees regularly exchange ideas and insights with mentors, including their direct managers, who are well-versed in all things fleet. At Foss, we understand that keeping up with the pace of change is essential, and we offer a variety of resources to help our employees stay ahead.
The company culture is exceptional

Effective fleet management can save time and money while also improving the bottom line of any company. At Foss, we strive to maximize the value of our customers' commercial fleets. Our employees are highly focused on performance, but the real reason for Foss's success is our unique company culture.
All four interviewees emphasized feeling like part of one big family and experiencing a strong sense of connection to their colleagues and the company's goals.
It's amazing that even new hires, like Steve, notice this aspect right away. During his onboarding, he observed that everyone shared the same goals and celebrated each other's successes. "The culture was truly remarkable and made me feel like I had been a part of the team for 25 years. It's an experience that I will never forget."
This positive and supportive attitude extends beyond employee relationships and translates into excellent customer service, which is a clear competitive advantage for Foss.
The leadership team actively lives a healthy working ethic and values. Grant highlights this point, saying, "The company's strong moral compass created by its leadership, ensures that mutual respect and a positive attitude are maintained across the company. This aligns completely with my personal values." This commitment to mutual respect at all levels sets a tone that is felt throughout the organization. It also reflects in the company's social responsibility activities.
Having clear values allows Foss to give more freedom to its employees, which they highly appreciate. They have the opportunity to approach problems creatively in their own way or work from home long before it became mainstream. "Management team has given me the freedom to spread my wings while being supportive when needed. It has made a fantastic transition from my previous role." States Shayne Foss' new Commercial Fleet Executive.
A high-performance mentality is encouraged
A shared high-performance mentality is another ingredient in the company's success. It is the foundation on which our culture is built. Our team members always strive to deliver exceptional results and to go above and beyond for our clients.
As Steve puts it, "If I can help the company succeed, then I know I did my job." This mentality not only benefits the company but also fosters a sense of personal achievement and growth for our employees.
Our team members set ambitious goals for themselves, as Shayne, who aims to become the Rookie of the Year by consistently meeting his quotas and focusing on maintaining a high closing ratio.
Such drive to succeed translates into increased productivity and better results for our clients, making Foss a trusted partner in the fleet management industry.
Summary
Employees claim Foss to be different from other fleet management companies on the market. As a medium-sized, family-owned business, uniquely Canadian, we have a special culture that sets us apart.
While we have strong technology and infrastructure, which allows us to compete with larger companies, we are also highly flexible with our clients, providing excellent customer service regardless of their company size. This personalized approach is at the heart of our organization. We are constantly looking to grow our team with great people. For more information about career opportunities at Foss, please check out our web page.
Get to Know the Author
President
Jeff Hartley has served as President of Foss National Leasing since joining the company in 2002. Jeff has over 25 years experience in the financial industry. Prior to joining Foss National Leasing, Jeff was the President of Volvo Commercial Finance from 1997-2000 and was Vice President at GE Capital from 1987-1996. Jeff has also been involved in different scales of operations ranging from a start-up business to a $750 million asset organization.
His experience includes the funding of transportation assets ranging from automotive, heavy trucks, school buses and motor coaches as well as the floor planning of these types of assets. In addition, Jeff was involved in the acquisition, development and management of fuel and maintenance programs related to these funded assets. Jeff's reputation as a strong business leader is evident within the fleet industry and as a result he was appointed the Chairman of the Canadian Finance and Leasing Association (CFLA) in 2011.
Meet our team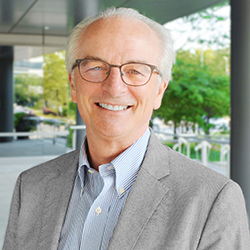 Get the latest fleet management news