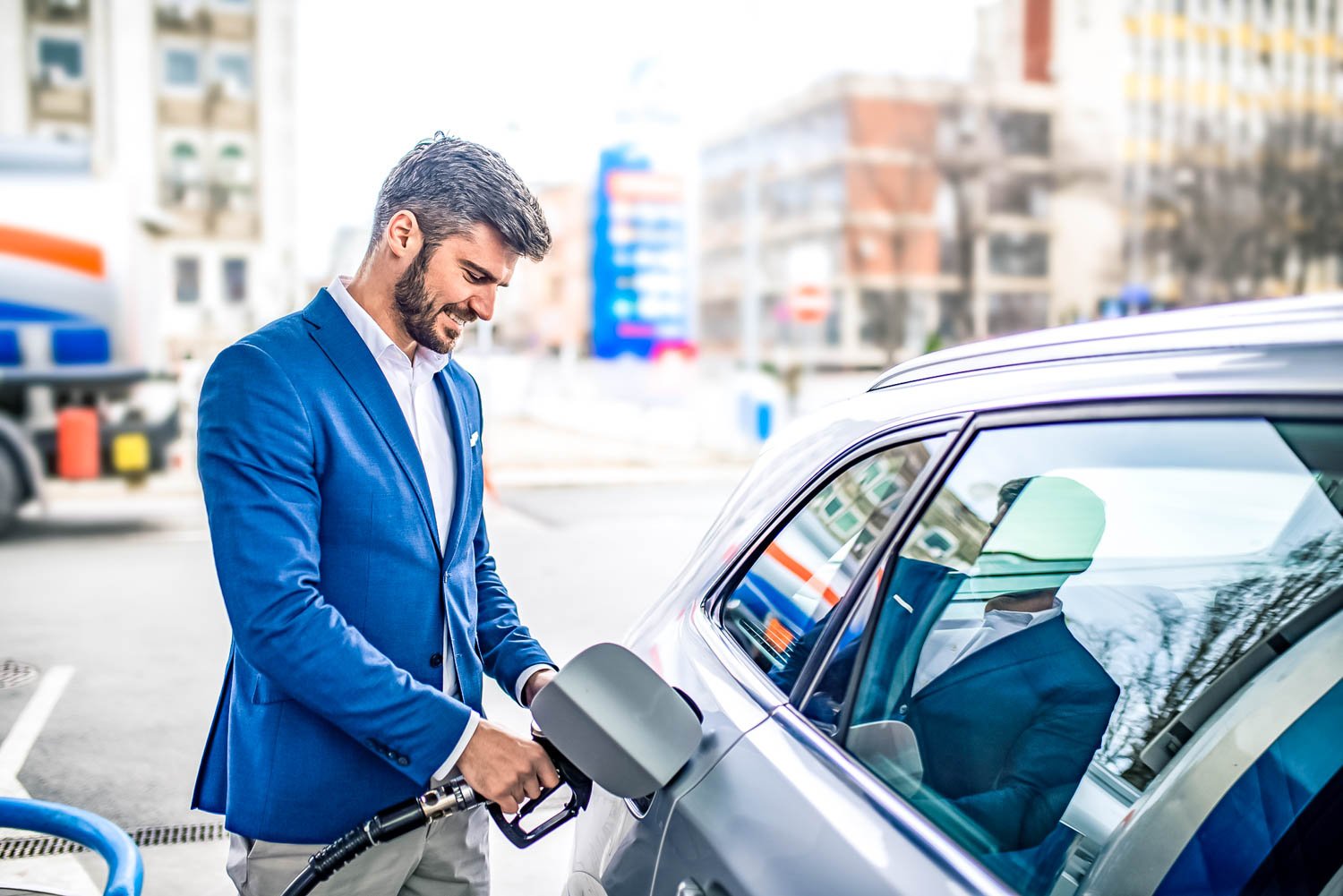 It's a challenging dilemma: You're pressured to lower your fuel costs, but the price of fuel keeps going up.
While there's nothing you can do about fuel prices across Canada, there are proven strategies you can implement to take better control of your costs.
In today's blog, we'll share our recent analysis of fuel prices over a period of seven months, what that means for your fleet, and what you can do to keep your fuel costs as low as possible.
Click here to enlarge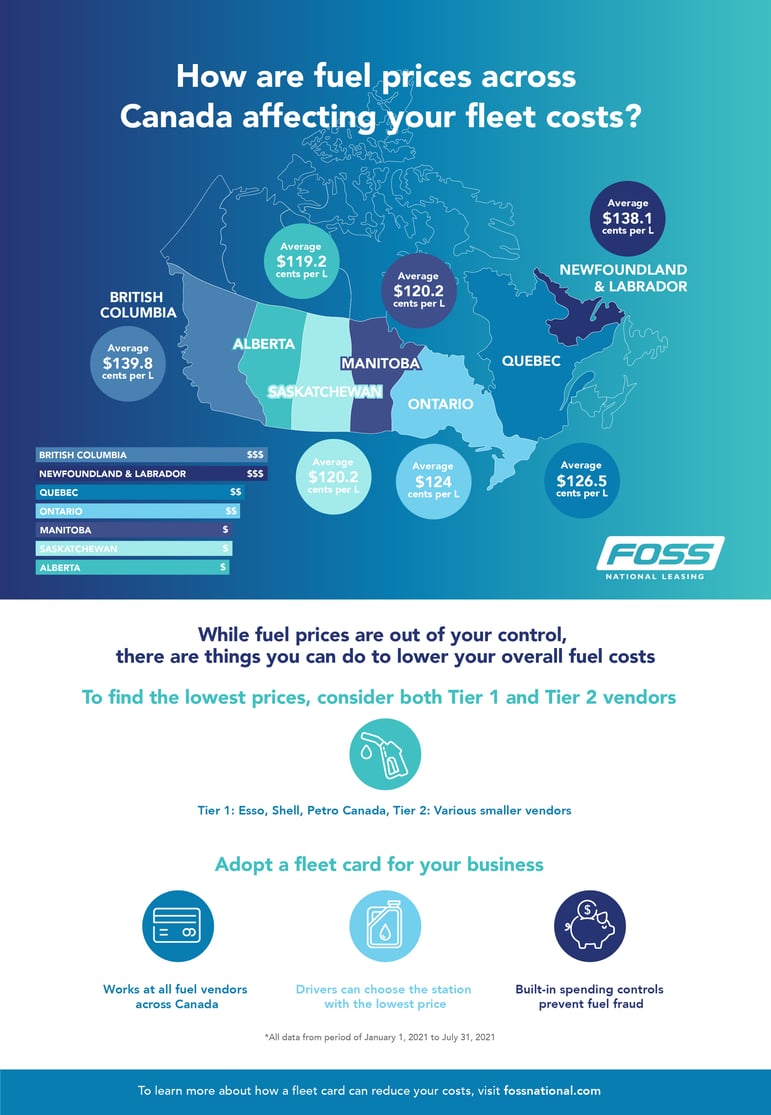 We recently analyzed fuel price data from across Canada, from the period of January 1 to July 31, 2021. Here are some key findings that caught our attention:
Average fuel prices vary significantly between provinces
Alberta has the lowest fuel prices in Canada with an average of 119.2 cents per litre.
British Columbia has the highest fuel prices in Canada, with an average of 139.8 cents per litre, followed by Newfoundland & Labrador at 138.1 cents per litre.
On average, Manitoba and Saskatchewan's fuel prices are the same and are 1 cent per litre higher than Alberta's.
On average, Ontario's fuel prices are 4.8 cents per litre higher than Alberta's.
On average, Quebec's fuel prices are 7.3 cents per litre higher than Alberta's.
On average, BC's fuel prices are 20.6 cents per litre higher than Alberta's.
Whether your fleet operates in one province or several, understanding fuel price trends is key to managing your costs. Add a fleet fuel card to the mix, and you have a solid strategy for reducing fuel costs and improving driver efficiency.
How a fuel card reduces your fuel costs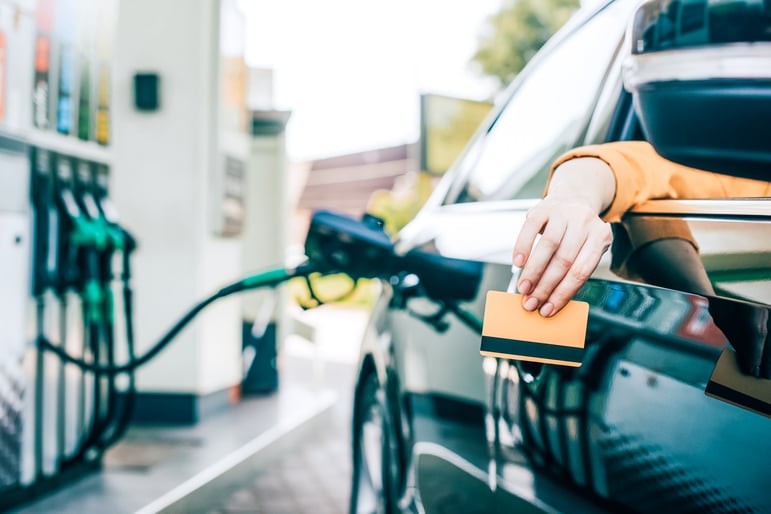 With a fleet fuel card, your employees will have access to all vendors, including both Tier 1 and Tier 2 vendors. This provides them with more options when looking for the lowest fuel price.
Furthermore, with a larger pool of vendors to choose from, employees spend less time driving around looking for a specific retailer—which translates into less downtime overall.
Fleet fuel cards also come with built-in spending controls and fraud protection. These features help lower your overall fuel costs by preventing unauthorized purchases and fuel fraud.
Finally, a fleet card program will reduce your administrative costs. The system consolidates all fuel purchases from each employee into a single monthly invoice for you to sign off on. Your days of tracking and reconciling invoices will be over!
Final thoughts
It's reasonable to expect that fuel prices will continue to rise. While this presents a challenge for businesses who rely on fleet vehicles, there are steps you can take to keep your costs down.
A fleet card is a tool that will help lower your fuel costs and make your drivers' jobs easier while having a positive impact on your operational costs as a whole.
Get to Know the Author
Glenn Provan has over 27 years of experience working in the fleet management industry. Over the years he has held many different roles in Operations, Finance, and Management.
Having a mind for "numbers" and being analytical by nature, Glenn utilizes his industry experience to allow Foss National Leasing's sales team and their customers to make data-driven decisions about how they manage their fleet and identify opportunities to make changes to reduce costs, improve efficiencies, and increase driver satisfaction.
Glenn is passionate about the industry and enjoys learning new things. Outside of the office, he enjoys spending time with his family and watching good movies.
Meet our team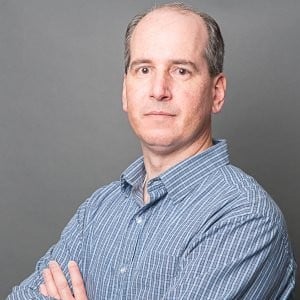 Get the latest fleet management news