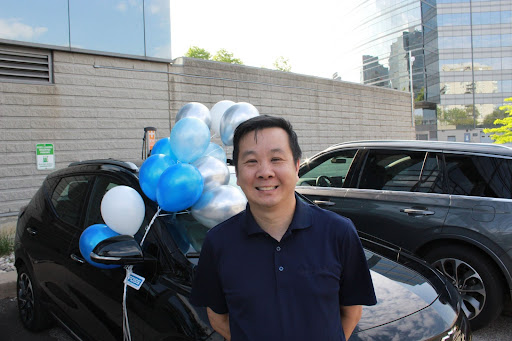 As part of our efforts to investigate the usability of electric vehicles (EVs) for different business uses, next to our EV Pilot Program, we held a contest at the last EV Expo. The winner had the exclusive opportunity to test-drive the 2023 Chevrolet Bolt EUV Premier FWD for three months. Eric Yeung, a fleet manager from Matheson Constructors won the contest, and now we are sharing Eric's honest opinions and experiences with this state-of-the-art EV after three months of use.
1. Overall Experience: Fun to Drive
After getting behind the wheel of the Bolt EUV, Eric was pleasantly surprised by the overall driving experience of the Bolt EUV. The vehicle's acceleration impressed him the most, and he also remarked that the vehicle was undeniably "fun to drive."
However, Eric did note that the Bolt EUV's suspension and handling could use some improvement, as they were not yet comparable to traditional internal combustion engine (ICE) vehicles.
Interestingly, Eric wasn't ready to jump on the EV bandwagon for his company just yet. While he acknowledged the fuel economy of electric vehicles, he suggested that hybrid vehicles still have their fixed place in the business fleets for their flexibility.
2. Considerations for the private use of EVs: Urban, Yes; Intercity, No
We asked Eric about his willingness to transition to an electric vehicle (EV) for personal use, and he expressed openness to making the switch, but with specific conditions.
Eric envisions EVs as ideal for urban commutes and daily drives. He believes that their efficiency and eco-friendliness make them a great option for short distances. However, he is not yet ready to commit to EVs for the longer intercity trips and weekend tours because of the insufficient charging options along the way.
There are many more Tesla chargers available than non-Tesla ones. Happily, some companies decided to equip their vehicles with adapters to enable charging at Tesla stations.
Also, Eric emphasizes the importance of installing a charger at home or work. Relying on the public charging infrastructure can be unpredictable, time-consuming, and inconvenient. Eric believes that having a personal charger is a must-have for anyone considering an EV nowadays.
3. Reality Check and Challenges: Charging Infrastructure
Eric also admitted that he often worries about the battery not having enough charge to reach his destination. There is even a name for this feeling because of its widespread nature. It is called range anxiety.
Eric's commute consisted of 90% highway driving, resulting in notably higher energy consumption for the Bolt EUV, especially when accounting for factors like air conditioning and other variables affecting the battery usage.
He relied solely on public charging infrastructure since he couldn't access fast charging at home or at work. Finding available and operational chargers was often easier said than done. Occasionally, Eric used the standard plug at home. It took much longer and resulted in higher electricity bills, but it was more convenient than searching for the charger and making extra detours.
"The range anxiety is a real concern. The chargers along the highways are often busy or not working when you need them." Eric Yeung
4. Pleasant Surprises: Quiet Ride and Lightning Acceleration
Despite the challenges, Eric enjoyed a quiet and peaceful ride with the Bolt EUV. The absence of engine noise made his daily commute more peaceful, and the electric motor's instant torque provided quick acceleration and an exciting feature to his drives.
5. A Silver Lining: Cost Savings
One area where Eric saw a clear benefit of using an electric vehicle was in his wallet. Despite occasional premium charges for public and fast charging, he estimated a 20% savings on his expenses when compared to his previous vehicle. His home electricity usage did increase, but the convenience of plugging the car into the standard charger at home made it a manageable change.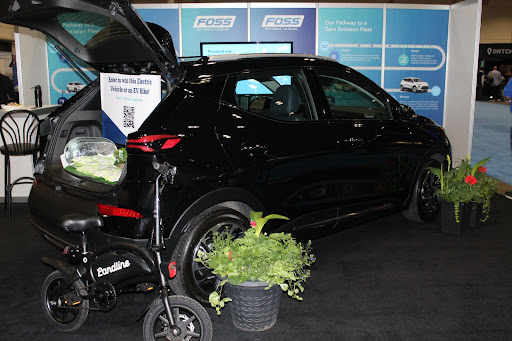 Final thoughts
Eric's experience underscores the evolving dynamics of EV adoption. While challenges persist, the appeal of EVs' quiet rides, driving fun, cost savings and sustainability are compelling reasons for considering the switch to electric.
Eric's three-month journey with the 2023 Chevrolet Bolt EUV Premier FWD offers valuable insights into the realities of using an EV as a commercial fleet vehicle. As technology continues to advance and charging infrastructure expands, we can expect these challenges to diminish, making electric vehicles an increasingly attractive option for commuters and businesses alike.
Get to Know the Author
Jennifer Chapman has been a valued member of the Canadian Fleet Management community for over 20 years. Her dedication to quality and cost-awareness is eclipsed only by her commitment to finding the best solution for her clients. Continually thinking outside the box, Jennifer is well-known for her ability to manage teams and implement process improvements, as well as advance workplace involvement in non-profit community efforts. Having obtained her CAFM and ASE certifications, Jennifer is well-poised to help fleets be successful in the 21st Century.
Meet our team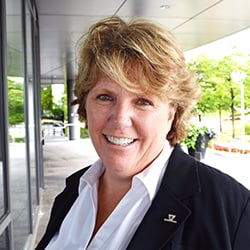 Get the latest fleet management news