Rising car theft in Canada can be a major problem for commercial fleets, but with the right precautions and equipment, it can be prevented. As a fleet management partner for companies of varying sizes and industries, we bring a wealth of experience to the table when it comes to managing and securing fleet vehicles. In this article, we've gathered extensive knowledge to assist you in safeguarding your fleet.
Understanding Vehicle Theft Techniques
There are numerous ways that vehicles can be stolen. The methods used are often innovative, making it important for car owners to stay informed and take proactive steps to protect their fleets.
Keyless theft: This type of theft occurs when a criminal uses a device to amplify the signal from a key fob and unlock the car.
Carjacking: This is a violent form of theft where the thief takes control of a vehicle by force, usually while the owner is still inside.
Staged Accidents: This is when thieves stage an accident or car breakdown and then steal the vehicle when the owner stops to help.
Insiders: This type of theft involves someone who works in the car industry stealing vehicles or selling information to help others steal cars.
Identity Theft: This is where the thief uses the owner's identity information to obtain a loan or lease for a vehicle, which they then steal.
Some of the most innovative ways of stealing vehicles are:

Key cloning or duplication
Hacking into car's keyless entry systems
Using OBD (On-Board Diagnostics) devices to steal a vehicle
Relay attacks using radio frequency amplifiers
Exploiting weaknesses in the vehicle's alarm systems
Stealing a vehicle using tow trucks or flatbed trucks
Stealing parts of the vehicle for resale or reuse.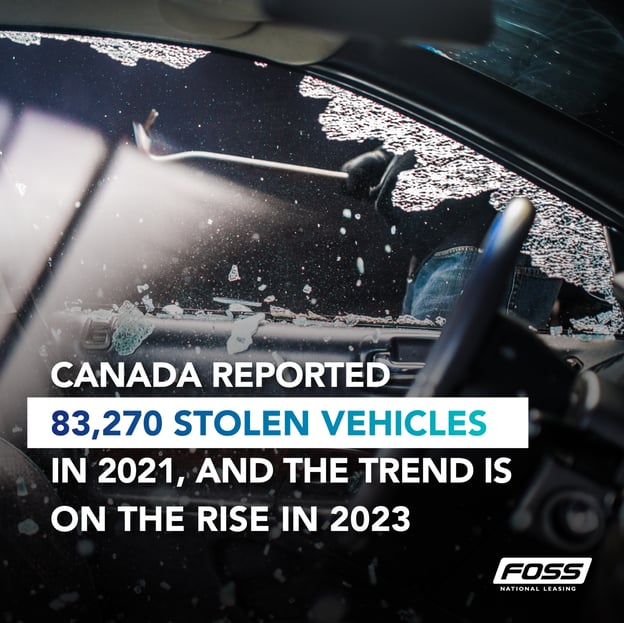 By being aware of vehicle theft methods, you will gain insights into what measures are the most effective to protect your fleet. We suggest you two main strategies:
outfit your fleet vehicles with car security equipment
implement essential fleet security procedures within your organization
Outfit Your Fleet Vehicles with Car Security Equipment
Nowadays, thieves have access to more advanced technology, making it essential for companies to implement technology-based solutions to prevent fleet vehicle theft. These solutions include
GPS tracking
A GPS tracking system can help track the location of your fleet vehicles in real-time. This information can be used to recover a stolen vehicle and provide valuable information to law enforcement.
A window decal or signage indicating that the vehicle is protected by GPS tracking tools can be a deterrent to potential thieves.
GPS tracking can be used as a stand-alone technology or as a part of advanced telematics solutions. With a comprehensive view of your fleet's performance, you can make informed decisions and take quick actions against theft. Learn how to take control of your fleet with vehicle telematics data here.


Electronic immobilizers
Electronic immobilizers can prevent thieves from starting the vehicle. These systems can be triggered remotely, or they may be automatically activated if the vehicle is tampered with.
Smart keys: A smart key system uses a key fob that must be in close proximity to the vehicle in order for the engine to start. This can prevent someone from starting the vehicle without the key.
Electronic steering wheel locks: An electronic steering wheel lock immobilizes the steering wheel, making it difficult for a thief to drive away with the vehicle.
Engine control module (ECM) immobilizers: An ECM immobilizer is a device that is integrated into the vehicle's engine control module. This system can prevent the engine from starting if the correct key or fob is not used.
Passive immobilization systems: Passive immobilization systems automatically activate when the key is removed from the ignition, preventing the engine from starting.
GPS-based immobilization: A GPS-based immobilization system uses GPS technology to track the location of the vehicle and immobilize the engine if the vehicle moves outside of a predetermined area.
Wireless immobilization: Wireless immobilization systems use a wireless signal to communicate with the vehicle's electronic systems and immobilize the engine.
Security cameras
Security cameras can provide a visual record of the theft and can be used to identify the thief. Some key benefits of using security cameras for fleet vehicles include:
Security cameras provide video footage that can be used as evidence in the event of a theft or an accident. This footage can help law enforcement identify suspects and recover stolen vehicles.
The presence of security cameras can deter thieves from attempting to steal fleet vehicles. Displaying signs indicating that the vehicles are equipped with security cameras can further increase the deterrent effect.
Security cameras can also help improve driver behaviour by capturing incidents of reckless or aggressive driving. This information can be used to provide coaching and training to drivers to improve their driving habits.
Many security camera systems for commercial fleets are equipped with remote monitoring capabilities, allowing fleet managers to view live or recorded footage from anywhere, at any time.
Some security camera systems for commercial fleets can be integrated with GPS tracking systems, providing a complete view of vehicle activity and location.
Alarms
An alarm system can alert you and others in the area if someone tries to steal your vehicle. Some alarm systems also have remote notification features, allowing you to be alerted on your phone if the alarm is triggered.
Steering wheel locking systems
Some steering wheel locking systems are designed to be very simple and straightforward, while others are more complex and feature advanced locking mechanisms, such as electronic locks and sensors. Additionally, some steering wheel locking systems can be integrated with other car security systems, such as alarms, to provide a more comprehensive level of protection for your vehicle.
Covering or window tinting
Last but not least, covering the windows of commercial vehicles with a mesh cage or dark tinting can make it more difficult for a thief to see the contents of the vehicle. This can be a deterrent and can also protect your equipment from theft.
Implement Essential Fleet Security Procedures Within Your Organization
While technology can play a crucial role in preventing fleet vehicle theft, it is also essential for companies to focus on the details and preventative measures. The internal processes and initiatives within your organization can have just as much impact on fleet safety as equipment-based solutions.
First of all, by considering the theft rates of vehicles in your area when choosing the vehicles you can prevent potential issues in the future.
In addition to considering theft rates
implementing strict policies and procedures for fleet vehicle use and handling
driver training and education on how to properly secure vehicles and be aware of their surroundings
partnerships with local law enforcement agencies and community watch programs
using fleet management software
will further enhance your fleet's security.
Next, let's explore each of these measures in detail.
Strict policies and procedures for the use and handling of fleet vehicles
Establish clear policies and procedures for the use and handling of fleet vehicles, including guidelines for who is authorized to use the vehicles and under what circumstances.
Implement a key management system to ensure that only authorized individuals can access the vehicles. This can include keyless entry systems, key cards, or other forms of security.
Establish a process for reporting any incidents or accidents involving the vehicles, and conduct thorough investigations to determine the cause and prevent a recurrence.
Implement a system of rewards and incentives to encourage safe and responsible use of the vehicles, and penalties for violations of the policies and procedures.
Regularly review and update the policies and procedures as needed to ensure they are effective and in compliance with all relevant laws and regulations.
Driver training and education on how to properly secure vehicles and be aware of their surroundings
Proper driver training can help reduce the risk of theft and other incidents. Training should include how to secure vehicles properly, maintain security features and be aware of surroundings.
How drivers can effectively prevent car theft:
Turn off the engine, close windows, and lock the vehicle even if leaving the vehicle for a minute
Requiring drivers to remove all valuables or hide them out of sight before exiting the vehicle
Use steering wheel locking systems
Park in locked, secure and/or monitored garage, if possible
Park in well-lit areas
Place key fobs far away from the vehicle and/or use a radio frequency shielding bag to block signals and avoid duplicate keys
Never hide a spare key in our near the vehicle
Reminding employees about car theft realities and regular refresher training can keep drivers updated on the latest best practices.
Learn more about how to Make Fleet Safety Training a Priority for Executives
Partnerships with local law enforcement agencies and community watch programs
These partnerships can provide organizations with access to valuable resources and expertise, including information on local crime trends, training and education on crime prevention techniques, and rapid response in case of an incident.
Using fleet management software
Fleet management software can provide various benefits to prevent theft and monitor the fleet such as real-time GPS tracking, remote immobilization, geofencing, fuel monitoring, maintenance tracking and driver behaviour monitoring. These features can help organizations stay informed about the location, usage, and maintenance of their vehicles, which can help keep the fleet safe and in good working condition.
What To Do When Your Fleet Car Is Stolen
Report the theft to the police: Contact local law enforcement immediately and file a report on the theft of the vehicle. Provide them with all the relevant information about the vehicle, such as the make, model, license plate number, and VIN.
Notify your insurance company: Contact your insurance company as soon as possible to report the theft and initiate a claim. Your insurance company will likely require a copy of the police report and other relevant information to process the claim.
Track the vehicle: If the vehicle has GPS tracking or another type of tracking device installed, contact the service provider and attempt to locate the vehicle. This information can be used to assist the police in their investigation and recovery efforts.
Update your fleet management system: Update your fleet management system with the theft information, including the date and time of the theft, the location of the theft, and any other relevant details. This information will help you keep track of the theft and recovery process and help you identify any potential security gaps in your fleet management procedures.
Replace the vehicle: Once the theft has been reported and the vehicle has been recovered or declared a total loss, steps should be taken to replace the stolen vehicle as soon as possible to minimize the disruption to your fleet operations.
It's important to have a plan in place for how to respond to vehicle theft so that the steps can be taken quickly and efficiently. This can help minimize any financial losses and ensure that the fleet remains operational.
Conclusion
In conclusion, protecting fleet vehicles from theft requires a multi-faceted approach that includes both technology-based solutions and organizational measures. It is important to remember that preventing fleet vehicle theft requires a constant and vigilant effort. By being proactive and taking the necessary steps to secure their fleet vehicles, companies can greatly reduce the risks and protect their assets.
Don't leave fleet security to chance. Ensure the protection of your fleet vehicles by partnering with a reliable and experienced provider with the necessary resources. Visit our homepage for more information about safety and risk management services.
Get to Know the Author
Dave is a highly motivated, innovative and results-oriented sales executive. He is passionate about coaching and sustaining high-performance teams that enhance the customer experience and achieve business objectives.
He knows the fleet business from the ground up with over two decades of fleet management experience. He has held several senior management roles overseeing new business development, customer satisfaction, account management and operations.
Dave maintains a keen aptitude for continually assessing and adapting to the needs of clients.
Meet our team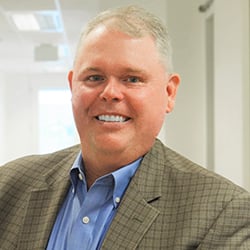 Get the latest fleet management news