We've compiled some trends that are emerging in the fleet industry, and would like to share them to you can be prepared and keep these in mind as you plan for 2023.
To start with, we are seeing an increasing emphasis on data being collected and used to make business decisions, but also to be able to monitor C02 emissions as there is a large emphasis on trying to meet targets. Zero-emission vehicles (ZEV) adoption is increasing but there are still a lot of barriers. As fleet management moves towards becoming more remote (like a lot of jobs these days) remote fleet technology is gaining popularity. In this blog we also address the vehicle shortage and touch on the increase in short term leases.

Read on to learn more about how to best prepare your fleet for 2023.
1. Increase in data collection and reporting (including CO2 emissions)
We're becoming a data-focused culture and this appetite for information is extending into the fleet world in a material way. Data recording (telematics) is having a big impact on fleet management. Utilizing data you can identify drivers who batter their vehicles, impacting maintenance and vehicle resale value. You can also provide data to your insurer to demonstrate your safe driving culture in an effort to reduce insurance costs. These are just a couple of examples of how data can really influence how you manage your fleets and can help you save costs.
Telematics' influence on fleet management will continue to grow as operators become more aware of the positive impacts such programs have on their overall performance. And it's not all financial performance that is being monitored. This also extends to companies getting serious about documenting their direct impact on climate change.
Fleets need to consider their sustainability goals and look to the future of green fleet technology, as CO2 emissions are at an all-time high and greenhouse gas emissions coming from transportation are significant contributors. It's becoming more and more important to track your emissions, and in many cases, it is required. ESG investors are demanding action from fleet managers to provide emissions reductions and there is a much bigger focus on reporting C02 outputs on vehicles. Stakeholders want to see reduced emissions, and the best way of doing that is by understanding where you are today. Funders are also looking to associate investments with companies that are doing the right thing on climate change. Being transparent about where you are today and where you are headed tomorrow defines leadership and accountability. Employee retention and recruitment also are affected by the decisions you make.
As a fleet operator, you may be affected by both Scope 1 and 3 emissions and could be required to measure these. Scope 1 emissions encompass emissions that come from owned or leased and on-road or off-road vehicles that generate GHG emissions through the combustion of various fuels. Your customers may also have to report Scope 3 GHG emissions, fleet telematics can help you provide data to your customers who report on these emissions. These are emissions that an organization is indirectly responsible for, they commonly account for as much as 90% of an organization's total carbon footprint, making them incredibly important to control and reduce.
Fleet managers can therefore find themselves under considerable pressure to firstly measure and then reduce their GHG emissions.
With increased pressure on data collection and reporting, you may be feeling challenged to find a solution that successfully protects both the planet while maintaining profitability. Foss National Leasing offers sustainable fleet management options and solutions for a future-facing experience.
2. ZEV Adoption for Scale is Growing - Cautiously
ZEV Sales are increasing annually - and for all the right reasons. But the reality of the situation is that zero-emissions fleet-scale programs are simply more complex to implement than at the retail level.
There isn't the selection nor availability of ZEV's to meet the demands of a commercial environment. The manufacturers have limited supply. Let's call it the way it is, there are few half-tons or light-duty vans being manufactured for the fleet market. Getting the right vehicle for the job is an essential tenet of efficient fleet management. Poor selection and limited availability is limiting the at-scale adoption of ZEV's.

But despite the lag, momentum for fleets to adopt clean technology is on the rise. Data shows that 75 percent of the 200 largest US fleet operators—responsible for about 1.2 million vehicles are committed to decarbonization targets for public fleets and more than 50 percent plan to operate fully carbon-free fleets by 2027.
The reason for the increased adoption is that regulators are adding pressure to meet targets and customers are also adding pressure as there is rising environmental awareness.
As a fleet manager, it's important to plan for the integration of zero-emission vehicles (ZEV's) over time.
This can include:
High-level examination of goals, timelines and feasibility of converting your fleet
Assessing the current situation, and creating specific plans on how to integrate ZEVs into your fleet
Planning the execution of the pilot program
Data gathering to make decisions
One of the most important decisions you'll make on your journey to a zero-emission fleet is selecting a fleet management partner. Selecting the right partner upfront is crucial to scaling your fleet quickly, efficiently, and cost-effectively.
3. Increased Usage of Remote Fleet Technology
There are a variety of innovative remote technologies that allow you to monitor fleet assets from a distance. GPS tracking systems integrated into your remote fleet management allow you to track driver routes, progress and productivity. You can pull reports on driver productivity and monitor the efficiency of their drivers during day-to-day operations.
Fleet vehicles are often viewed as an "easy target" when it comes to false accident claims. AI dashcam video solutions give fleets the best tool to protect themselves from false claims and the costs that come with them.
4. Addressing the Vehicle Shortage in 2023
We are slowly seeing a normalization of vehicle supply. The chip shortage really messed things up. We are still 18 months away from inventories and selection returning to a level where this is balanced in the marketplace. Used Vehicle Resale Value is still something fleet operators need to be conscious of. As manufacturers are slowly resolving their inventories, it's just natural that used vehicles' value returns to a more normal place.
Trends we are seeing:
If you have excess vehicles, do not sit on them as the market will reward you for the additional inventory. Also, if you can hang onto your current fleet for another year, the replacement costs will be more competitive. This requires fleet managers to prioritize proper maintenance and improve driver habits to reduce wear and tear.
5. Short Term Leases are in Demand
We're seeing a heightened interest and demand for short term leasing of commercial light-duty vehicles by fleet operators. Instead of being committed to a four-year lease, there are products out there whereby fleet vehicles can be leased for short terms - one to 16 months. Operators get access to vehicles when they need them and no longer. We see a lot of interest in this category of product.
Conclusion
In conclusion, 2023 is set to be a year of exciting advancements and changes in the fleet management industry. From an increase in data collection and reporting to the growing adoption of zero-emission vehicles, remote fleet technology, and short-term leases, companies and organizations need to be aware of these trends to stay ahead of the game. Addressing the vehicle shortage will also be crucial in ensuring that the industry continues to grow and meet the needs of businesses and customers. By staying up-to-date with these trends and implementing innovative solutions, fleet managers can ensure their organizations are prepared for the future. Make sure to follow our blog for more timely information on how to best manage your fleet.
Get to Know the Author
Basil is a seasoned, results-oriented executive possessing North American and European experience. He has held senior management roles for over 10 years, gaining experience in sales, marketing, business development and fleet operations.
As Managing Director at Foss, he is passionate about changing the way we look at fleet management, mobility, green initiatives, and automotive trends. He takes great pleasure in working closely with the Foss team and helps those around him to grow and evolve within the company.
Basil maintains the same enthusiasm and energy in his personal life. He spends as much time as possible with his wife and two young boys. Any other spare time he finds he is out on his bike, golfing, traveling, and exploring.
Meet our team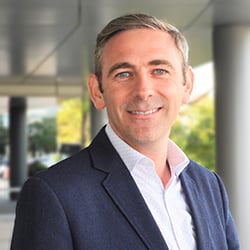 Get the latest fleet management news